This is all about the Lazada Samsung phones that are on sale now. So if you are you a Samsung fan and a stingy mom as well, then you've come to the right place.
If you are a mom like me, then most probably, you're always on a budget. The difference between me and you is the budget itself. For example, you probably have a bigger budget. While I, on the other hand, am on a tighter budget. The point is, moms have a a budget. Now there's this one place online where every mom's budget is considered.
Lazada, the leading online store, is offering a long list of Samsung phones at unbelievably low, low prices. You will find a lot of Lazada Samsung phones on sale here.
No matter what your budget is, Lazada has it. So, if you are looking for a Samsung phone to fit your budget, then you'll find it here. Take a look below. Here are some Lazada Samsung phones that you can easily afford.
Samsung Galaxy A5 2017 32GB Dual LTE (Black)
From  ₱20,990.00 to ₱15,680.00 You get 25% OFF

The Samsung Galaxy J7 PRO Is Available On Lazada 
The Samsung Galaxy J7 PRO is also available on Lazada for PHP 15,990.00. This particular Samsung phone has the coolest camera. If you want an awesome camera for all your selfies, this is the one for you. This is a social camera with beauty mode and instant share features. Yes, you can immediately share your perfectly filtered selfie on Facebook and Messenger.
Take a look at the photo of the super moon taken by the Samsung Galaxy J7 PRO.
Not bad, huh? Even if it wasn't taken by a pro.
Again, you can choose from the two modes of payments for this particular Samsung phone. You can use your credit and do an installment payment for one year at PHP 1,010.09 per month. That is one good option you can consider. Of course, you can always pay in full.
Now if you want to do away with the one-year installment, then you can opt to pay cash on delivery. Again, it's all up to you. The point is, Lazada gives you all these payment options so that you can go with what you're comfortable with.
Samsung SM-B350E DUOS (Greenish Blue)
From ₱2,899.00 to ₱2,155.00 You get 26% Discount. 
These three Lazada Samsung phones have good ratings and reviews.
Smart  Shopping With Lazada
Aside from the many payment options Lazada offers, you get total convenience. You can't deny that shopping online is a lot more convenient than going to the mall. According to Lifewire.com, busy moms find shopping online very convenient. I totally agree with that.
The Samsung smartphones are delivered right to your doorstep. You can skip the part where you have to survive the traffic just to go to the mall, find parking, and shop with the crowd.
There's no need for you to worry about product warranty because you can get that as well when you purchase on Lazada. It's as if you went to the mall, without the hassle of leaving home.
Amazing Sales On Lazada
Watch out for the amazing sales on Lazada. Last year, the Pinoy Cyber Sale was so successful that internet went crazy. There were so many items on sale. Morning, noon, and night time; various items were being almost being given away. You just really had to watch out for the discounts that were being given away the whole day.
If you missed the Pinoy Cyber Sale last year, don't worry, There will be more sales coming up. So stay tuned and visit us regularly. It's a lot better to visit us here than go to the malls.
BTW, you get to save a lot when you opt to shop at Lazada because you are not tempted to get anything else along the way. Unlike if you were in the mall, you would end up eating out and buying something out of the blue. It's hard to stick to a budget when you're in the mall. For a stay-home mom like, that is very critical. Hence, I would rather shop at Lazada.
Those are just a few of the Lazada Samsung Phones. If you want to see more Samsung phones, click on the Samsung Exclusive Treats. You will see great deals you simply won't be able to ignore.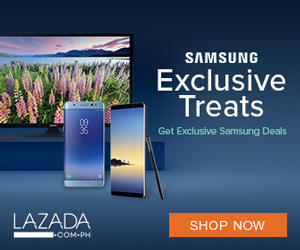 If you're looking for a product and you want to know more about it, let me know. I can look it up for you and tell you more about it on my next post. So feel free to leave a comment below or use our contact form found here. Looking forward to hearing from you.